Residential, Commercial & Industrial Solar Rooftop System Provider
Solar Rooftop System Provider with Tata Power Solar
Ahmedabad Solar is The largest Rooftop Solar System Provider in Ahmedabad, Gujarat, India. We are also Installing Commercial & Industrial Rooftop Solar Panels in Ahmedabad, India
We are happy to say that being An Authorized Channel Partner of "Tata Power Solar", the entity provides all solutions with regards to the clean energy segment.
When it comes to utilizing power, not only low cost but the reliability of the power source is another important concern for any user.
There are various options to utilize this power requirement and the most efficient one among them is the rooftop solar power panel installation.
We have the expertise to install a wide range of rooftop solar plants and solar rooftops in Ahmedabad, Gujarat. This provides the user with limited vacant space for the indigenous power plant to operate using the open terrace as the location of power generation.
This being a specialized job involves a team that has worked in a similar installation on previous occasions. The alignment of the solar array cells is placed in the best possible manner using the location analysis, so that frequent changes and shifts are not required.
The maintenance activity is easy to carry out and can be carried out at regular intervals thus ensuring a hassle-free power supply. Contact us for the best rooftop solar system in Ahmedabad, Gujarat.
Tata Power Solar Rooftop System Provider
Tata Power Solar, India's most trusted and dependable rooftop solutions provider.
Tata Power Solar is India's leading integrated solar player, excelling across the solar value chain right from the manufacturing of cell/modules and solar products to executing rooftop and utility-scale solar projects.
Tata Power Solar is the pioneers in India's rooftop domain for more than 30 years, having commissioned our first solar installation in 1991 and an installed base of more than 425 MW of rooftop systems today.
India's leading Corporates, MNCs, and Institutions have chosen to work with us as their trusted partner in their green energy journey.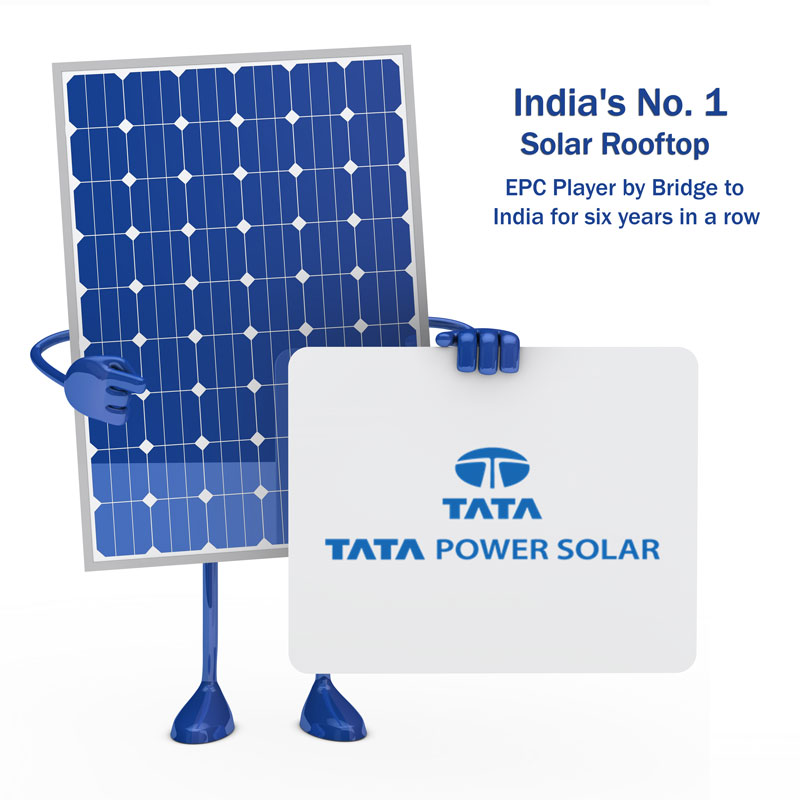 Tata Power Solar is a partner of choice for over 10,000 residential customers. Our delighted customers are a testimony to our quality & excellence in execution.
425 MW++ OF CUMULATIVE SOLAR ROOFTOP INSTALLATIONS, BRIGHTENING LIVES ACROSS INDIA
WORLD'S LARGEST SOLAR ROOFTOP INSTALLATION ON A CRICKET STADIUM, 820.8 KWP AT CRICKET CLUB OF INDIA, MUMBAI.
170+ SALES & SERVICE CHANNELS PARTNERS ACROSS INDIA
INDIA'S LARGEST SOLAR ROOFTOP INSTALLATION, 16 MW – RSSB-EES, AMRITSAR*
INDIA'S LARGEST SOLAR CARPORT 2.67 MW – COCHIN INTERNATIONAL AIRPORT (CIAL)
24X7 REMOTE MONITORING FOR PERFORMANCE ANALYSIS & REAL-TIME SERVICE SUPPORT.
Who can avail of the Solar Rooftop Subsidy?
The Ministry of New and Renewable Energy (MNRE) has issued a clarification regarding the subsidy applicable for rooftop solar installations by individual residential households under phase-II of the grid-connected rooftop solar program.
In its official memorandum, the MNRE states that subsidy under Phase-II of the grid-connected rooftop solar program will be available to all eligible households for installation of rooftop solar as per regulations of respective State Electricity Regulatory Commission (SERC) and provisions of program implementation guidelines.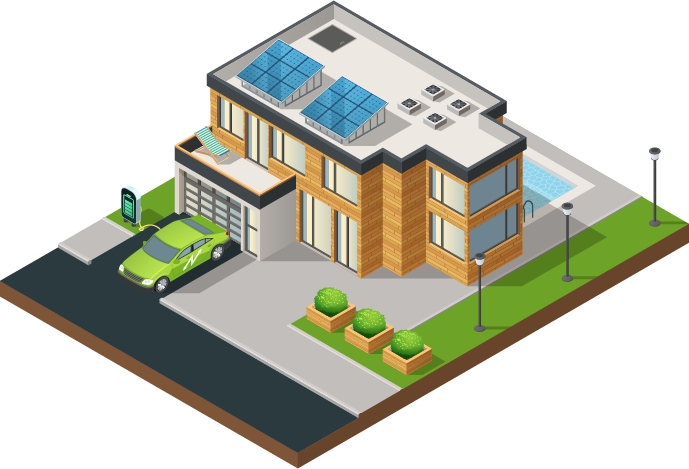 According to the MNRE statement, rooftop solar installations up to 3 kW will qualify for a subsidy of 40%. For rooftop solar installations of 40% for up to 3 kilowatts (kW) system and a subsidy of 20% for a system of 3 kW to 10kW. However, there's no subsidy beyond 10 kW capacity.
Let the sunshine brighten up your lives
Grid Tie Solar System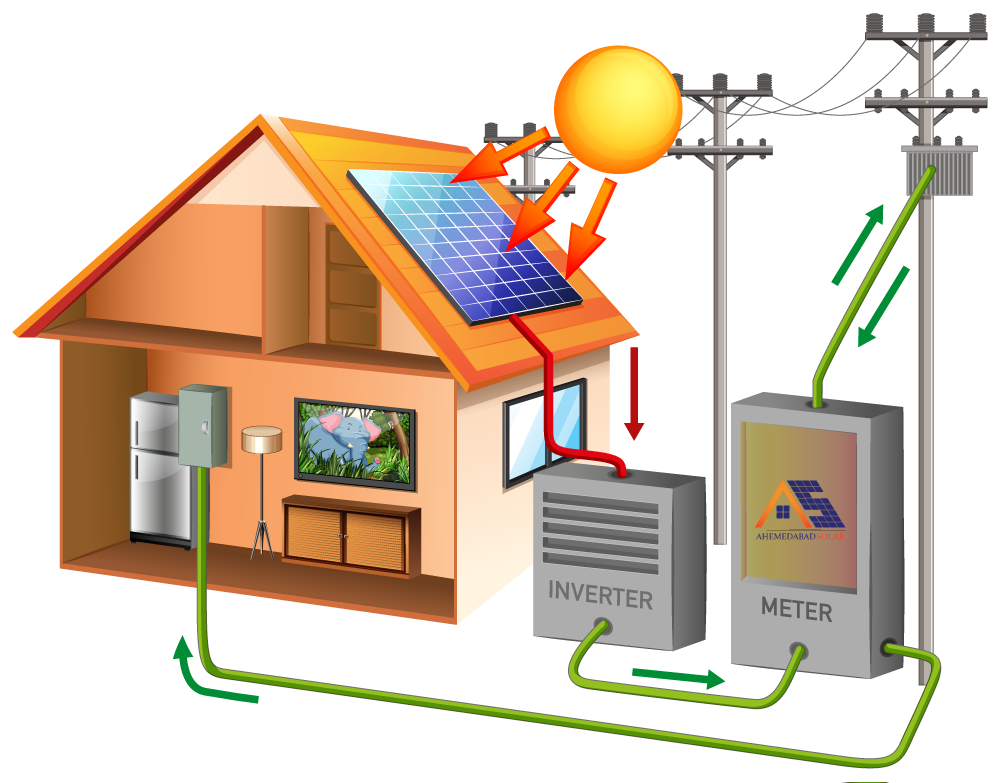 Ahmedabad Solar's grid-tie solar system is if you decide to install an on-grid solar system, you will always have access to electricity (unless the grid goes down), whether or not your solar system is producing or if you have batteries.
If your system is not producing any electricity or not producing enough electricity to power the devices, lights, machines, etc. that you're using, you can pull energy from the utility grid to supplement it. This ensures you always have enough electricity for what you need.
Features
High efficiency Maximum Power Point Tracking (MPPT) based inverter for maximum output
Remote monitoring communication interface available (optional)
Digital display for easy readability
Active fault monitoring unit for safe operations
Benefits
Cut down on your electricity bills
Utilize idle rooftop space
Sell excess power back to the grid
Hedge against ever-increasing electricity tariffs
Trusted, dependable, and long-lasting system
Green energy, clean energy
Components
Solar array ranging from 1000 to 10,000 wp
Safe and secure inverter ranging from 1kVA to 10 kVA
Hot-dip galvanized mounting structure
Customized solutions are available*
Sustainable, Cost Effective and Reliable Power
Off Grid Solar System
Ahmedabad Solar's an off-grid solar system is more popular and comes with a power backup. It works independently of the grid. Most home appliances such as Fans, TV, Cooler, AC, Water Pump, etc. can work through this system.
The off-grid solar system is completely reliant on the sun and energy stored in batteries to power your home or business. 
When the sun is shining and the solar system is producing electricity and when you're pulling electricity previously generated by your solar system from a solar storage device, like batteries.
If you do not have batteries or a means to store your energy, you will have less or no electricity when it's cloudy, and you will not have electricity at night.
With an off-grid system, you will not have access to extra electricity if you need it. What you are producing and what you have stored is all that's there to power your equipment.
Features
Maximizes solar usage
Inbuilt smart battery management system for prolonged battery life
Digital display for easy readability
Self-protecting active fault monitoring unit for safe operations
Mounting possible on virtually all types of roof profiles
Benefits
Say goodbye to blackouts
Any time power
Low dependence on the erratic grid
Run critical loads on solar
Prolong battery life
Trusted, dependable, and long-lasting system
Green energy, clean energy
Components
Solar array ranging from 1.2kWp to 5.12kWp
Safe and secure inverter ranging from 2kVA to 7.5kVA
150Ah tubular solar batteries+
DIY kit or hot dip galvanized mounting structure
Reason to Choose AHMEDABAD SOLAR
Ahmedabad's Most Trusted Brand
300+ residential systems commissioned
6200 KW+ of installations
24X7 service support, for complete peace of mind
AHMEDABAD SOLAR ROOFTOP IN GUJARAT
Ahmedabad
Surat
Vadodara
Rajkot
Bhavnagar
Morbi
Gandhidham
Nadiad
Bharuch
Porbandar
Jamnagar
Junagadh
Anand
Navsari
Surendranagar